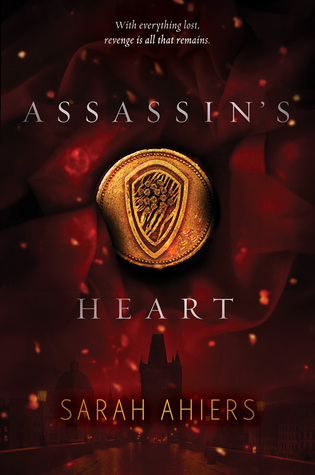 Series: Assassin's Heart (bk. 1)
Genera(s): High Fantasy/Romance
Subjects: assassins, murder, revenge, adventure, gods and goddesses, love, supernatural, ghosts, spirits
Setting: The kingdom of Lovero
POV/Tense: 1st person, past tense: Lea (Oleander) Saldana
Summary/ product description:
"In the kingdom of Lovero, nine rival Families of assassins lawfully kill people for a price. As a highly skilled member of one of these powerful clans, seventeen-year-old Lea Saldana has always trusted in the strength of her Family. Until she awakens to find them murdered and her home in flames. The Da Vias, the Saldanas' biggest enemy, must be responsible—and Lea should have seen it coming. But her secret relationship with the Da Vias' son, Val, has clouded her otherwise killer instinct—and given the Da Vias more reason than ever to take her Family down.
Racked with guilt and shattered over Val's probable betrayal, Lea sets out to even the score, with her heart set on retaliation and only one thought clear in her mind: make the Da Vias pay.
With shades of The Godfather and Romeo and Juliet, this richly imagined fantasy from debut author Sarah Ahiers is a story of love, lies, and the ultimate vengeance."
My Review:

I had no idea what to expect with this book. When I first saw it coming out, I didn't think it would be my kind of fantasy. The cover was kind of interesting. Then I read the description. I was a bit more intrigued. I tried reading it and I was pulled in. This is a really awesome unique fantasy story.
There are assassins, Families, ghosts and gods. Lea's a Saldana and bear a mask that's half bone white and half black with a design, like the rest of her Family. She has dirty blond hair and brown eye and she's a Clipper, an assassin who takes jobs to murder in the name of the goddess Safraella. Lea is romantically involved with a rival Family member, Val Da Via, who's blonde, sexy and arrogant. This forbidden romance between rival families has the influence of the play Romeo and Juliet.
Lea's Family is killed in a fire set by the Da Vias and she's the last Saldana left. Lea wants revenge and meets with the king, who's a friend of her now dead father. He gives her the location of her only living relative, her uncle. Lea travels to another country full of canals and angry ghosts that haunt the night. There she meets dark-haired Alessio (Les). He's a wannabe Clipper. She agrees to train him in exchange for his help in making a fire-bomb.
A romance develop between them. I really liked Alessio. I know rightaway her was going to be important, even before we know his name. Just based off the way he was described in the market. He's funny and sweet. Lea's a badass and trains him. It made me think of Wren and Callum from Reboot, or other relationships from YA books. I enjoy the humor and banter between them. The ending was pretty good. I found out there's a sequel that possibly a companion. I'm guessing it's from another character, maybe in the future (Allegra maybe…)
I recommend this to fans of Red Queen by Victoria Aveyard, The Young Elites or Legend by Marie Lu, Divergent by Veronica Roth, Dorothy Must Die by Danielle Page, The Jewel by Amy Ewing, Defiance by C.J. Redwine, Snow Like Ashes by Sarah Raasch, and Shadow and Bone by Leugh Bardugo.
Cover Art Review: This cover put me off because I didn't understand it. Now I read the book and know that's the holy coin of the Saldanas and not some strange medallion. I like the velvet texture of the paper.