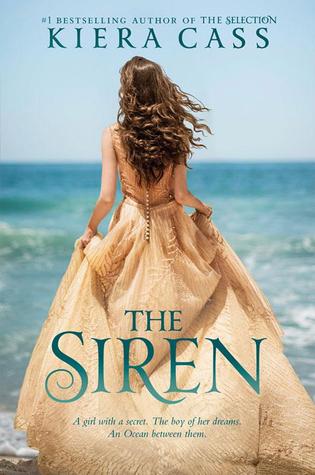 Genera(s): Paranormal Romance
Subjects: sirens, mythology, supernatural, ocean, love
Setting: Miami, Florida, South Carolina, Maine, New York City...(and various other places)
POV/Tense: 1st person POV, past tense: Kahlen
Summary/ product description:
"From Kiera Cass, #1 New York Times bestselling author of the Selection series, comes a sweeping stand-alone fantasy romance.
Years ago, Kahlen was rescued from drowning by the Ocean. To repay her debt, she has served as a Siren ever since, using her voice to lure countless strangers to their deaths. Though a single word from Kahlen can kill, she can't resist spending her days on land, watching ordinary people and longing for the day when she will be able to speak and laugh and live freely among them again.
Kahlen is resigned to finishing her sentence in solitude...until she meets Akinli. Handsome, caring, and kind, Akinli is everything Kahlen ever dreamed of.
Falling in love with a human breaks the Ocean's rules. But for the first time in a lifetime of following the rules, Kahlen is determined to follow her heart."
My Review:

The Siren is a standalone paranormal romance novel written by the author of the Selection series. The Siren was Kiera's first book, and this is a edited and republished version. I never read the original version that was an ebook with a purple cover, but this version was pretty good. Not as good as the Selection, but I love the mythology stuff.
Kahlen (Is it pronounced Collen or Kaylen?) was changed into a siren back in early 1930s, during
the depression. She was on a boat that sirens were sinking and she cried out and they decided to save her. They made her a siren and she has a to serve the Ocean for 100 years. Now it's 80 years into her service and she's growing a bit weary. Kahlen dreams a romance and love.
Her sisters are worried that she's becoming depressed. Miaka is originally from WWII era Japan and is an amazing painter. Elizabeth, with her golden brown hair and love a fashion, grew up in the late 60s/early 70s. Aisling is from Sweden and her time as a siren is almost up. Soon she meets a boy named Akinli.
Kahlen and her siren sisters are living in Miami at the time. Kahlen vists the local college and sometimes sketches on the benches. Kahlen goes to the university library to look at cake recipes. Akinli walks by and decides to talk to her. Kahlen and her sisters are not aloud to speak to human in their voices, otherwise the human walk to a watery death. They have to pretend to be mute or deaf. The have to use sign language or write around other people. Akinli finds Kahlen's silence mysterious and want to get to know her.
I think Kahlin and Akinli's romance is cute. What irritated me was that there wasn't enough of it. Kahlen is pulled away from him multiple times by her responsibility to her sister and the Ocean. Akinli is very talkative and understanding. He works around Kahlen muteness. He's a very sweet guy. He's blond and kind of scruffy. He's also from Maine. There's a part of the book in which Kahlen visits his hometown. It reminded of the Siren series by Tricia Rayburn.
I liked the siren mythology. They don't have tails, but when they enter the ocean dresses made of sea salt form on their bodies. The Ocean, which the call a Her/She, is like a goddess that speaks to them and tells them to sing and sink ships because those deaths will give others a chance to live.
If you enjoyed any series about sirens or mermaids, then read The Siren. Especially if you were a fan of Tricia Rayburn's Siren series, Lies Beneath by Anne Greenwood Brown or the Watersong series.
Cover Art Review: Beautiful cover! Metallic and velvety. Love the dress and the ocean.