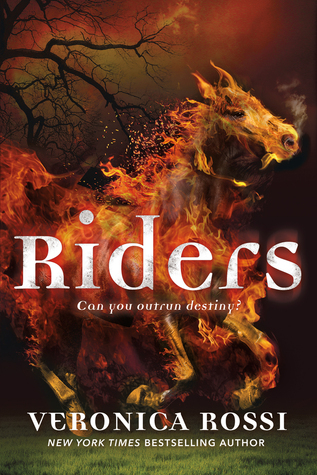 Series: Riders Duology (bk. 1)
Genera(s): Paranormal Romance/Thriller
Subjects: supernatural, demons, angels, magic, horses, apocalypse
Setting: California, Rome, Italy, Norway
POV/Tense: 1st person POV, past tense: Gideon Blake
Publisher: Macmillan: TorTeen
Summary/ product description:
"Nothing but death can keep eighteen-year-old Gideon Blake from achieving his goal of becoming a U.S. Army Ranger. As it turns out, it does.
While recovering from the accident that most definitely killed him, Gideon finds himself with strange new powers and a bizarre cuff he can't remove. His death has brought to life his real destiny. He has become War, one of the legendary four horsemen of the apocalypse.
Over the coming weeks, he and the other horsemen—Conquest, Famine, and Death—are brought together by a beautiful but frustratingly secretive girl to help save humanity from an ancient evil on the emergence.
Now—bound, bloodied, and drugged—Gideon is interrogated by the authorities about his role in a battle that has become an international incident. If he stands any chance of saving his friends and the girl he's fallen for—not to mention all of humankind—he needs to convince the skeptical government officials the world is in imminent danger.
But will anyone believe him?"
My Review:

Riders is a pretty good series opener. The beginning of the book starts weeks after the fact, and Gideon is telling his story to a woman named Natalie Cordero, who's possibly a psychologist or interrogator with a government agency. There are some interruptions when she asks him questions. She seems skeptical of his story, but also seems to put on an act of believing him.
Gideon was training for the army to be in the 75th Ranger Regimen. He has an accident on his 6th time parachuting and almost dies. He wakes up with a strange red metallic bracelet on his wrist. He's healing from his injuries mysteriously fast. He goes to a party at his sister's college and meets a girl that tells him he has to come with her. This girl is Daryn, and claims that she is a Seeker in search of the current incarnations of the four horsemen of the apocalypse, and tells Gideon that he's War.
Gideon's in disbelief even after being attacked by the Kindred at the party. They travel across California to find Famine and Death, and eventually Conquest, who's in Europe. Along the way, they try their best to evade the Kindred, but still some attacks occur. Also the horsemen don't all get along. Gideon's got quite the temper sometimes. My favorite character is probably Sebastian (Bas). He's such a nice guy, doesn't want to fight. He had dreams of being a famous actor, and Gideon actually met him during Bas's audition. There's some romance between Daryn and Gideon. Daryn seems like a cool girl and reminds me of other female characters I've read.
I love the horses. I didn't expect that there would be horses. I thought "horsemen" would just be a title with no actual horses involved. But there are horses! Gideon's horse is a fiery red stallion. This horse has real flames for its mane and tail, like Ponyta & Rapidash from Pokémon. Also it makes me think of Ghost Rider. Bas's mare is dark and shadowy, but beautiful. There's Death's pale horse, an ashy mare. And Conquest's glowing white horse. I like the names they each come up with for their horses too.
This was pretty exciting. Can't wait to see how it ends in the sequel-finale. I recommend this to people who enjoy shows like Supernatural or Messengers (which was cancelled after 1 season) or Constantine. Also fans of paranormal book in general. If you like horses, too.
Cover Art Review: Cool fiery horse!!! Really awesome cover.