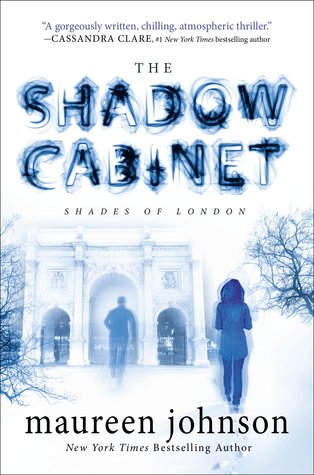 Series: The Shades of London (bk. 3)
Genera(s): Paranormal Romance/Urban Fantasy
Subjects: ghosts, spirits, death, secret societies, murder, boarding schools,
POV/Tense: 1st person POV, past tense: Rory
Publisher: Penguin: G.P. Putnam's Sons
Summary/ product description:
"The thrilling third installment to the Edgar-nominated, bestselling series.
Rory and her friends are reeling from a series of sudden and tragic events. While racked with grief, Rory tries to determine if she acted in time to save a member of the squad. If she did, how do you find a ghost? Also, Rory's classmate Charlotte has been kidnapped by Jane and her nefarious organization. Evidence is uncovered of a forty-year-old cult, ten missing teenagers, and a likely mass murder. Everything indicates that Charlotte's in danger, and it seems that something much bigger and much more terrible is coming.
Time is running out as Rory fights to find her friends and the ghost squad struggles to stop Jane from unleashing her spectral nightmare on the entire city. In the process, they'll discover the existence of an organization that underpins London itself—and Rory will learn that someone she trusts has been keeping a tremendous secret."
My Review:

The Shadow Cabinet is surprisingly not the final book of a trilogy, but the third book of the Shades of London series. The ending didn't wrap up neatly, and I checked on Goodreads and there is the fourth book. I waited two year for the book to come out. Two years of not know Stephen fate. I hate these long gaps between books. I do enjoy the characters and narration.
Rory is hilarious as ever.
She's very quirky and funny. Some of the things she thinks and says are a little strange. She's always going off on tangents about her life in New Orleans and how crazy it was even though it's crazier now that she's in London and can see ghosts. Rory does seem distressed by what happened to Stephan and I felt like without him throughout the book, the story was lacking. Still, I enjoyed it enough to give it four stars.
We get to know more about Thorpe. Also we learn about Jane Quaint's past and the twins she used to know. They had their own little death cult of sorts. The first chapter pretty much tells us what happened. The story has moved away from the Ripper stuff and murder mystery and into the magic and secrets of death and the termini.
For some odd reason I thought Maureen Johnson herself was British (I think I confused her with Sarah Reese Breenen), but maybe that's because she's done such a good job writing about London in this book. I've never been a fan of British stuff like most other American (I always though Australia sounded better), but this series makes me want to visit London. It's so atmospheric and creepy-fun.
So, since book four is probably not going to come out for another two years (1 year if we're lucky) you're going to need more books to pass the time. For those of you who have not read this series, I'd recommend it if you like YA books about ghosts/ghost hunters or boarding schools.
Cover Art Review: I love the color and the paper used for the dust jacket. It's pearly.