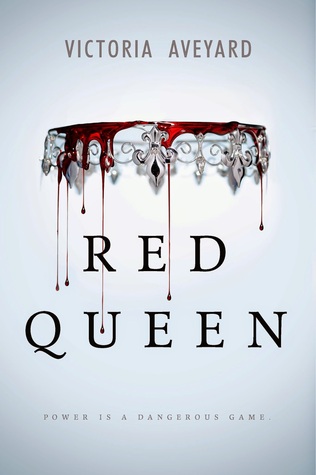 Series: The Red Queen Trilogy (bk. 1)
Genera(s): Dystopian Sci-fi/Fantasy/Paranormal Romance
Subjects: abilities, superpowers, supernatural, magic, war, rebellions
Setting: Norta (the northeastern U.S.) A summer palace near what once was Boston, Massachusetts (Though they never mention it). The mention Delphie, which is likely Philadelphia. The Whitefire palace in either in New York City or D.C.
POV/Tense: 1st person POV, present tense: Mare Barrow
Summary/ product description:
"Graceling meets The Selection in debut novelist Victoria Aveyard's sweeping tale of seventeen-year-old Mare, a common girl whose once-latent magical power draws her into the dangerous intrigue of the king's palace. Will her power save her or condemn her?
Mare Barrow's world is divided by blood--those with common, Red blood serve the Silver- blooded elite, who are gifted with superhuman abilities. Mare is a Red, scraping by as a thief in a poor, rural village, until a twist of fate throws her in front of the Silver court. Before the king, princes, and all the nobles, she discovers she has an ability of her own.
To cover up this impossibility, the king forces her to play the role of a lost Silver princess and betroths her to one of his own sons. As Mare is drawn further into the Silver world, she risks everything and uses her new position to help the Scarlet Guard--a growing Red rebellion--even as her heart tugs her in an impossible direction. One wrong move can lead to her death, but in the dangerous game she plays, the only certainty is betrayal."
My Review:

Red Queen was something I wanted to read completely based on the cover and all the buzz. I didn't know what I was going to get when I started reading it. I expected fantasy, maybe a unique fantasy. I did not expect this to be dystopian also. It's set in the future, over 320 years.
Society is separated by the color of their blood. Silver bloods are powerful, and red bloods are the workers. There's plenty of technology and magic mixed in with the unique world building. I'm 90 percent certain that this is set in the USA near what once was Boston, Massachusetts (Though they never mention it). The also mention Delphie, which is likely Philadelphia. The Whitefire palace in either in New York City or D.C. I'm not sure. Much like in the Hunger Games, you just have to guess for yourself.
The main characters are unique in many ways. Mare, our narrator, is a thief and doesn't have many other skills. She kind of falls into a situation that leads to her discovering her lightning powers. It may be kind of cliché, but it's well executed. There are the two princes: Cal and Mavin. Cal's into honor and Mavin is resentful of his father. Marrow is forced to become Mavin's fiancé because her unfortunate circumstances of discovering her powers. The romance is not very prominent in this story. She does kiss Cal, but never get romantic with Mavin. There's no love triangle.
The royal family wants to hide the red with silver power that she should not have. Mare decides that she can take this opportunity to help the Scarlet Guard in their rebellion to make reds equal to silvers. Power is a dangerous game, as the tagline says, and Mare must play the game from within the court. The plot is very linear with not flashbacks. It's written in present tense and has a nice flow. It never slows down.
MINOR SPOILER: Mare's Ability
I really enjoyed this book, and all the amazing world building. It's just the kind of book I look for. Crossing generas and cool characters with powers. I think the author's choice to give the main character electric powers is interesting and unique. I can't think of any other main characters from books with this power. Mostly just books about characters with enhanced senses/strength, telepathy, telekinesis or illusions. It's nice to see something different. Mare is like Static Shock (if you recall that superhero cartoon). She can zap you, but she's still learning. At the beginning of the book, I though she was going to be a whisperer/telepath. She discovers her powers circa page 60, so it's not really a spoiler. Just know that this is awesome.
I recommend Red Queen to fans of the following types of books. Books about rebellions, dystopian or otherwise: The Young Elites or Legend by Marie Lu, Divergent by Veronica Roth, Pawn by Aimee Carter, Dorothy Must Die by Danielle Page. Dystopian books with fantasy elements: The Selection by Kiera Cass, Crewel by Gennifer Albin, The Jewel by Amy Ewing, Defiance by C.J. Redwine. Books in which superpowers/magic powers play a big role: Glitch by Heather Anastasiu, Shatter Me by Tahereh Mafi, Illusive by Emily Lloyd Jones, Steelheart by Brandon Sanderson, Blackout by Robsion Wells, Starcrossed by Josephine Angelini (also has character with lightning powers). Unique fantasy books: Snow Like Ashes by Sarah Raasch, Shadow and Bone by Leugh Bardugo, Incarnate by Jodi Meadows
Cover Art Review:

This cover is designed by Sarah Kaufman, a designer at HarperCollins. Michael Frost made the illustration. I love the simple photo illustration of the upside-down crown dripping blood. The cover is a larger size and it's metallic and the background mimics white/silver silk. The crown and title is embossed. I badly wanted to buy this book, but got it from the library already. The end pages in the book have illustrations.