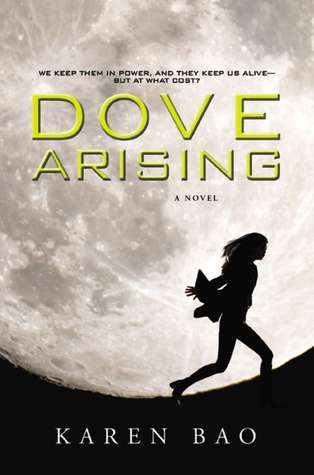 Publication Date: February 24, 2015
Series: Dove Chronicles (bk. 1)
Genera(s): Dystopian Sci-fi/Romance
Subjects: space colonies, space, soldiers
POV/Tense: 1st person POV, present tense: Phaet Theta
Publisher: Penguin: Viking
Summary/ product description:
"Phaet Theta has lived her whole life in a colony on the Moon. She's barely spoken since her father died in an accident nine years ago. She cultivates the plants in Greenhouse 22, lets her best friend talk for her, and stays off the government's radar.
Then her mother is arrested.
The only way to save her younger siblings from the degrading Shelter is by enlisting in the Militia, the faceless army that polices the Lunar bases and protects them from attacks by desperate Earth-dwellers. Training is brutal, but it's where Phaet forms an uneasy but meaningful alliance with the preternaturally accomplished Wes, a fellow outsider.
Rank high, save her siblings, free her mom:

that's the plan. Until Phaet's logically ordered world begins to crumble...
Suspenseful, intelligent, and hauntingly prescient, Dove Arising stands on the shoulders of our greatest tales of the future to tell a story that is all too relevant today."
My Review:

Dove Arising is a dystopian book that has some similarities to other dystopian books, but it is still unique. It's set within a moon colony and the main character is of Chinese descent. Phaet is very intelligent and doesn't talk very much. She only speaks when she feels that it's necessary. She works in agriculture with her friend, Umbriel. When Phaet's mother is taken away to medical, Phaet and her siblings are left with barely any income and must live in the shelter or find a larger source of income. Phaet decideds to join the militia.
The initiation and training into the militia comes with 4 tests over 2 months. A lot of the training reminded me of Divergent by Veronica Roth. I wonder if the author was a fan of Divergent. Also setting a book on the moon could mean she's a fan of the Lunar Chronicles. Either way, this book is pretty interesting and will appeal to fans of those series. There's a deeper meaning of how societies are ran and dealing with issues. Phaet had to leave behind her dreams of becoming a scientist to join the militia so she could earn a high rank and money to support her family.
Dove Arising is an easy read and never boring. Since the main character is 15, the story is fine for a younger audience. It's not that gruesome and the violence it minimum. There's just enough action and romance. It's not the most amazing of dystopian books I've read, but it's pretty good and deserving of four stars. The characters have their own unique traits and there's a lot of diversity of heritage mentioned. This book would be great for discussion of hard topics.
I recommend this book to fans of: Divergent by Veronica Roth, Cinder by Melissa Meyer, The Hunger Games, Matched or Atlantia by Ally Condie, Reboot by Amy Tintera, and other various dystopian series. Also, if you enjoy books set in space, like Across the Universe by Beth Revis.
Cover Art Review: I'm sure this cover will be more interesting than the ARC is. Textured or metallic? The girl on the cover is the main character, who is of Chinese descent and has silver streaky hair.