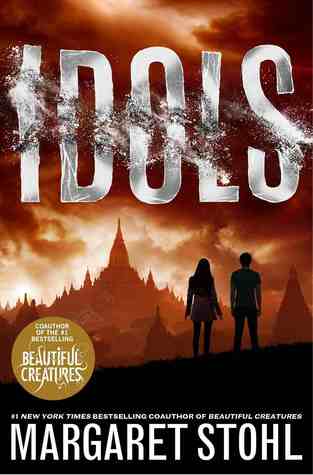 Genera(s): Dystopian Sci-fi
Subjects: aliens, futuristic, abilities, telepathy, emotions, survival, adventure
Setting: California, China, Thailand
POV/Tense: 1st person POV, present tense: Dol
Publisher: Hachette: Little, Brown
Summary/ product description:
"The Icons came from the sky. They belong to an inhuman enemy. They ended our civilization, and they can kill us.
Dol, Ro, Tima, and Lucas are the four Icon Children, the only humans immune to the Icon's power to stop a human heart. Now that Los Angeles has been saved, things are more complicated - and not just because Dol has to choose between Lucas and Ro, the two great loves of her life. As she flees to a resistance outpost hidden beneath a mountain, Dol makes contact with a fifth Icon Child, if only through her visions. When Dol and the others escape to Southeast Asia in search of this missing child, Dol's dreams, feelings and fears collide in an epic showdown that will change more than just four lives -- and stop one heart forever.
In this riveting sequel to Icons, filled with nonstop action and compelling romance, bestselling author Margaret Stohl explores what it means to be human and how our greatest weakness can be humanity's strongest chance at survival."
My Review:

A very interesting sequel to Icons, Idols is full of sci-fi action and adventure and characters you won't forget. Idols is from Doloria's (Dol) point of view, like Icons. She, Furo, Tima and Lucas destroy the Icons in the Los Angelos area at the end of Icons. They have to figure out their next step. They have a merk/ex-soldier/Australian scientist named Fortis to help them, and his AI called Doc. Fortis is taken by the Lords and returned with no harm.
Dol is an okay narrator. She seems kind of plain and unconfident. She's empathic and telepathic, so she feel what other feels and think. Her powers come from the emotion of sorrow. Lucas's powers to compel other come from the emotion love. Ro's powers of super-strength and fire starting come from anger. Tima's powers are fear, and she can freak people out (it's really not clear what she can do).
I like the characters. I think Ro has the most interesting dialogue. He reminds me a bit like Jacob from Twilight, post-werewolf. Sarcastic, fiery and loves to fight. I really like Fortis too, because his Australian accent and humor. And I love Doc. He's the funniest computer ever and reminds me of the AI from the Tomorrow People.
What made this book awesome was the part where the characters travel to South East Asia (SEA colonies), what was once Thailand and China. The travel through jungle and along a river called Ping on a raft and on elephants. You don't see many dystopian books set in exotic places. It was a real treat. And they visit a Buddist temple and see Stupas. The reason they're there because a dream Dol had about a 5th Icon child with a jade Buddha. In the SEA colonies they meet an overweight (part-monk) guy named Bibi who knows Fortis. He's an interesting character.
This book didn't bore me even when it was slow. I think Margaret Stohl's writing style is beautiful and elegant. She's poetic. You can see how similar it is to her writing in Beautiful Creatures. Icon have a magic feeling that most dystopian book don't. I recommend this series to fans of Shatter Me by Tahereh Mafi, Delirum by Lauren Oliver, The 5th Wave by Rick Yancy, and In The After by Demitria Lunetta.
Cover Art Review: I like the Stupas on the cover. We talked about them in Art History. The title is cool. Not to crazy about the gold circle that looks like a sticker, but isn't.