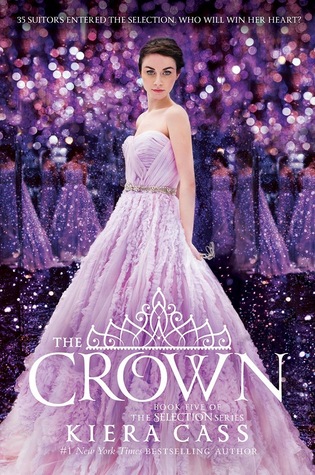 Series: The Selection (bk. 4)
Genera(s): Dystopian sci-fi/Romance
Subjects: contests, love, royalty, politics, princes and princesses, kings and queens
Setting: Los Angeles, California (Angeles now)
POV/Tense: 1st person POV, past tense: Eadlyn Schreave
Summary/ product description:
"When Eadlyn became the first princess of Illéa to hold her own Selection, she didn't think she would fall in love with any of her thirty-five suitors. She spent the first few weeks of the competition counting down the days until she could send them all home. But as events at the palace force Eadlyn even further into the spotlight, she realizes that she might not be content remaining alone.
Eadlyn still isn't sure she'll find the fairytale ending her parents did twenty years ago. But sometimes the heart has a way of surprising you…and soon Eadlyn must make a choice that feels more impossible—and more important—than she ever imagined.
My Review:

The Crown is the 5th and final book in the Selection series, or the 2nd and final book of this Selection spinoff duology, depending on how you look at it. If you don't recall, in The Heir, Maxon decides that holding the Selection would be a way to distract the people from other troubles. Getting rid of the caste system did not solve all the problem in Ilea. People are having trouble finding jobs because of post-caste discrimination, or skill level. The 35 suitors are anonymously picked and Eadlyn was making history being in the first female-ran selection. Eadlyn was highly against the Selection and tried to sabotage it from the start, sending boys home as quick as she could, but some were charming enough that she kept them for a while, dating some, doing things as a group sometimes.
Now in The Crown, Eadlyn has narrowed her Selection down to 6 Elites. The ones staying are Ean, Henri, Fox, Hale, Gunner, and Kile. Under the circumstances of her mother's condition, she thought it was best to let everyone else go. Her mother's heart attack is hard on her, but America is still alive and the doctors are doing what they can. Out of all the Elite boys, Kile's the only one she truly loved, but he dreams of being an architect and she's not sure if she want to put him in a royal position. She grew up with him, and they used to not like each other.
There's also Henri's translator, Erik, who Eadlyn starting to fall for, although he's not part of the Selection. Erik's family was from Swendway, like Henri is. Erik's real first name is Eikko. He has dark hair and blue eye and is camera shy. Eadlyn really does love him, but she feels obligated to go though with the rules of the Selection. Also there's Marid Illéa who want her to marry him to secure the royal blood line.
This was a really great finale. It was cute and enjoyable. I'm happy how it ended and kind of don't want to spoil it for everyone else. I enjoyed all the romance, humor and drama in these books. If you looking for action, this is not that kind of book. It's full of romance. It's like a soap opera. I would not suggest reading this without having read all three of The Selection books before it.
Cover Art Review: I love this cover more than any other Selection covers. That dress is the most gorgeous cover dress yet. Those sparkles look like stars. I just love everything and wish it were metallic or glittery.
Cover Art Review: So gorgeous. I love the purple! The lavender dress is so pretty!