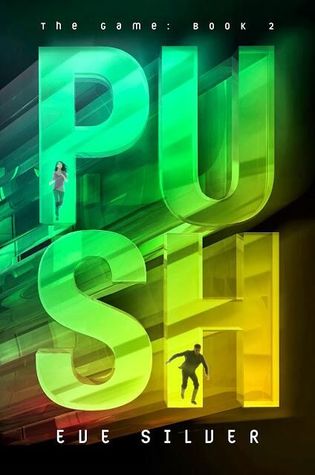 Series: The Game Trilogy (bk. 2)
Genera(s): Sci-fi Thriller/Romance
Subjects: action, adventure, aliens, extraterrestrials, fighting, games, survival
Setting: Rochester, New York
POV/Tense: 1st person POV, present tense: Miki Jones
HC/PB: Hardcover and soon in Paperback
Publisher: HarperTeen: Katherine Tegan
Summary/ product description:
"It's either break the rules or die.
Miki Jones lives her life by her own strict set of rules, to keep control, to keep the gray fog of grief at bay. Then she's pulled into the Game, where she—and her team—will die unless she follows a new set of rules: those set by the mysterious Committee.
But rules don't mean answers, and without answers, it's hard to trust. People are dying. The rules are unraveling. And Miki knows she's being watched, uncertain if it's the Drau or someone—something—else. Forced to make impossible choices and battling to save those she loves, Miki begins to see the Committee in a glaring new light.
And then the Game crosses a new boundary, pushes harder into Miki's and her friends' lives, and there's nothing in the rules that can save them now.
Push is the sequel Rush fans will be screaming for."
My Review:

Push was a great sequel to Rush. I enjoyed plunging back into the world of The Game. The characters are awesome. The aliens are creepy and mysterious. There's a lot of mystery and things yet to be revealed. I still enjoyed Rush better than Push, but that's because it was the introduction.
I love Jackson. He's one of my favorite love interests/lead guys. Our narrator, Miki, is awesome too. She's always trying to be in control and strong for all the troubles in her life. She's worried about her dad's drinking problem and her own panic attacks. Plus, Miki knows kendo. She's awesome with a sword.
Carly is Miki's best friend. Miki feels like they might be growing apart, mostly because Miki's been occupied with the Game and lying to Carly, but in this but they come back together. Miki even buys cupcakes, and eats one despite her beliefs on healthy eating. I love when friendship plays a big role in books. Romance is great, but characters that you would want as your friend are even better.
I kind of wish more happened in this book, though. I loved in for the characters and the sci-fi, but the plot didn't really speed up till the end. There are a lot of side issues beside the Game. Realistic teen issue, like alcohol abuse, depression and anxiety. Honesty was also important. Miki hated how Jackson wasn't telling her what Committee had told him.
It's hard to compare this book to other books out there. If you have not read Rush or Push, then just know that it's about fighting aliens, but it's not dystopian. It's set in contemporary Rochester, New York and the characters are pulled into a "game" or a mission in another plane/dimension and they have to kill the Drau aliens. It's pretty hard to explain, so if that sound cool, then read it.
Cover Art Review: I love this cover so much. The letters are like glass, but in bright neon colors. It's just amazing and metallic. I totally bought these books for their covers.